Beyond Learning Objectives:  Develop Measurable Objectives That Link to the Bottom Line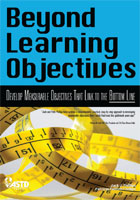 For decades, the emphasis in the workplace learning and performance field has been upon instructional objectives. But today's organisations demand attention to higher-level objectives – objectives that clearly provide business impact and value and satisfy the expectations of key stakeholders.
If you're involved in projects, programmes, initiatives or solutions in your organisation, Beyond Learning Objectives is the must-have guidebook that can help you meet these new expectations. This book provides step-by-step processes for defining, measuring and developing six types of objectives: input, reaction, learning, application, impact and ROI. You'll also have help avoiding common pitfalls in the development of objectives, such as unclear, incomplete, non-specific or even missing objectives.
While it's best to use this book as a roadmap by following its logical process from beginning to end, you'll also find that it serves as an excellent reference as you continue to apply its content. You'll have a well organised, complete array of practical tools to help you, including exercises, checklists, charts, process diagrams, formulas for measurable objectives, discussion questions and case studies.
Jack J.Phillips, Ph.D., is chairman of the ROI Institute. He is the author, co-author or editor of more than forty books and is the series editor of the ASTD In Action casebook series and Butterworth-Heinemann's Improving Human Performance series.
Patricia Pulliam Phillips, Ph.D., is CEO of the ROI Institute. She is the co-author, with Jack Phillips, of many books, including Return on Investment Basics, The Human Resources Scorecard, and ROI at Work.