Show the Value of What You Do

Unlock the Value of Learning and Development with ROI Excellence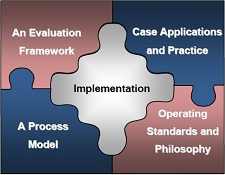 Discover the true impact of your organisation's Learning and Development (L&D) investments and prove their worth with our comprehensive suite of tools and techniques.
At Complete Learning Solutions, we specialise in helping L&D practitioners and organisations demonstrate the return on investment (ROI) generated by their programmes.
Maximise Your Impact, Minimise Doubt
Are you ready to showcase the value you bring to your organisation? Our proven ROI Methodology® is not just another evaluation system — it's the most widely recognised and trusted framework in the world. We offer a range of tailored ROI certification, coaching, and consulting services to meet your specific needs.
Test your ROI Expertise
Think you know how to measure ROI for your L&D projects? Put your knowledge to the test with our ROI Quiz. Gain a deeper understanding of the term and discover why measuring ROI can truly make a difference in your organisation's success.
Become a Certified ROI Professional®
Elevate your expertise and become a Certified ROI Professional® through the world-leading ROI Institute's certification and workshop program. Join us for a transformative five-day workshop, facilitated by renowned measurement and evaluation experts Jack and/or Patti Phillips from the ROI Institute® or by our team at Complete Learning Solutions. Gain the skills to implement comprehensive ROI evaluations within your organisation.
Master the Art of ROI
During the ROI Certification® workshop, you'll acquire hands-on experience in calculating and improving ROI within your organisation. Learn to:
Quantify intangible benefits and translate them into monetary values
Measure the contributions of training and performance improvement programmes
Select effective strategies to isolate programme effects
Determine optimal data collection timing and methods
Calculate or estimate the value of improvements
Analyse data and calculate the financial ROI
Apply simple statistical tools for data analysis
Global Workshops and Customisation Options
ROI Certification® workshops are offered worldwide by the ROI Institute, and locally by Complete Learning Solutions. We can also customise workshops specifically for your organisation. Contact us to learn more about workshops in New Zealand or for upcoming workshop dates in the United States and other countries.
Ready to Unlock Your ROI Potential?
Download the complete ROI Certification® brochure to explore how you can unleash the power of ROI and demonstrate the true value of your L&D investments. Reach out to us today and embark on a journey of ROI excellence.