Return on Investment (ROI)

Measurement and Programme Evaluation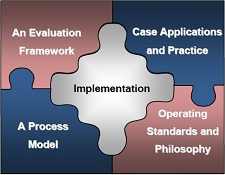 Organisational learning and development professionals and practices add great value to organisations – yet many L&D practitioners struggle to prove it. It is vital to be able to demonstrate an organisation's return on its L&D investment, which is why we offer a range of ROI certification, coaching and consulting services to suit all needs.
We can help you see and show the value of what you do. And the ROI Methodology® is the most used evaluation system in the world.
Test your ROI Skills
Many of us think we know about measuring ROI on our L&D projects – but do you really know what the term means, or is ROI just another acronym to you?
Take our ROI Quiz to find out how much you really know about how to use ROI with your projects and why measuring using ROI makes a difference.
ROI Coaching and Consulting
If you need focused project or programme-specific assistance, then our consultancy services, in-house and external training workshops, and coaching in ROI are ideal. We are the only NZ business partner for the ROI Institute®, so apply the robust ROI Methodology® in all of our ROI work.
This results-based return on investment approach is ideal for evaluating the effectiveness and measuring the bottom-line contribution of HR, L&D, and other organisational initiatives.  Contact us to discover more about how to prove your organisation's return on its L&D investment.
ROI Certification®
Become a Certified ROI Professional® through the ROI Institute's world-leading ROI certification and workshop programme.
At this five-day workshop, facilitated by world-renowned measurement and evaluation experts and authors Jack and/or Patti Phillips of the ROI Institute® and/or by us at Complete Learning Solutions, you will master all the skills to implement a comprehensive ROI evaluation in your organisation.
In addition to having the option to become fully certified in the ROI Methodology®, you will learn how to sustain the measurement and evaluation process on a continued basis and will also receive ongoing support after the workshop has ended.
Once you've demonstrated competency in applying the ROI Methodology®, you will earn the prestigious Certified ROI Professional® designation.
Who Should Attend
The ROI Certification ® workshop is designed for people who are taking a leadership and coordination role in ROI implementation within their organisations. It is also invaluable for anyone who desires a more comprehensive and detailed exposure to measuring the impact of projects, programmes and events.
The workshop is ideal for anyone who needs to demonstrate the ROI and business impact of other initiatives such as human resources, quality, process improvement, organisational change, and technology implementation.
How ROI Certification® Will Benefit You
Gaining ROI Certification® will benefit you in many ways, including:
Hands-on experience conducting an impact study using a programme or project from your own organisation
Becoming a certified ROI Methodology

®

practitioner will entitle you to offer one-day and two-day workshops in your own organisation
Gaining sought-after skills that will make you more credible and valuable to your organisation
Gaining ROI Network membership, which will give you access to invaluable tools, templates, resources and worldwide contacts for applying the ROI Methodology

®
What You Will Learn
During the ROI Certification® workshop, you will gain hands-on experience in calculating and improving ROI in your own organisation, by learning how to:
Translate tangible and intangible benefits into monetary values
Measure training and performance improvement programme contributions
Choose appropriate strategies for isolating programme effects
Determine data collection timing and methods
Calculate or estimate an improvement's value
Analyse data and calculate the financial ROI
Apply simple statistical tools to data analysis
Where and When ROI Certification® Workshops are Held
The ROI Institute offers ROI Certification® workshops worldwide and at Complete Learning Solutions we offer them locally. We can also customise one for your organisation. Contact us to find out more about workshops in New Zealand, or visit the ROI Institute® website for dates for upcoming workshops in the United States and other countries.
Want to know more? Download the full ROI Certification® brochure.