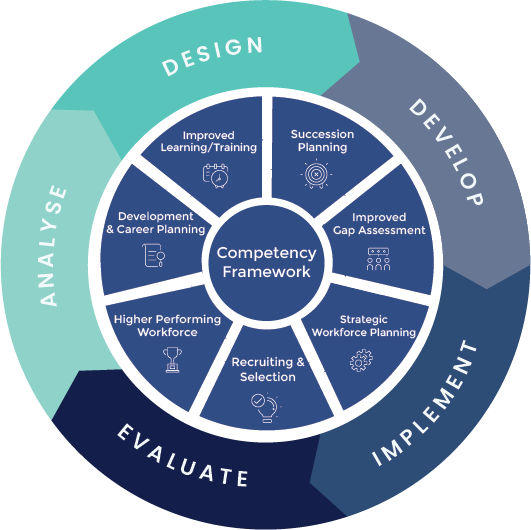 At Compete Learning Solutions, we are very experienced at developing competency frameworks that will make a measurable difference to your organisation.
Competencies should articulate specific performance requirements
The word 'competent' is generally associated with a description of individual/s being able to do something well. This is the idea behind a competency framework, which is a collection of statements about what individuals must demonstrate to achieve expected outcomes.
Having explicit statements of what people are expected to do link organisational processes like recruitment, training, development, assessment, promotion, and employee relations. Competencies provide a common language between these functions, organisational measurement, and data management systems. 
Competencies also allow concrete links between statements of organisational mission, vision, and values and organisational strategies, processes, and practices. They can then become the mechanism for communicating and translating vision, mission, and values for everyday practice.
A competency framework can improve organisational capability
There are three main competency types:
Core competencies are required of all individuals in the organisation. Organisational values can be embedded in these competencies.
Leadership and management competencies are required of individuals because they hold positions requiring responsibility for themselves, people, and/or tasks.
Technical or professional competencies are relevant for particular job roles within an organisation.
Competencies usually consist of an explicit statement of requirement, as well as examples of the behaviours that represent individual performance against that statement.
Competency frameworks benefits
A good competency framework will provide:
A clear understanding of organisational performance requirements
A clear understanding of behavioural expectations for individuals
The growth of a strong leadership culture
The integration of vision, mission, and values in everyday operations

A focus for organisational learning and development initiatives