Show Me the Money: How to Determine ROI in People, Projects, and Programs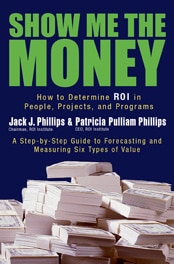 "Show me the money." There's nothing new about the statement, especially in business. Organisations of all types want value for their investments. What is new is the method that organisations can use to get there. This book presents an approach that both evaluates the value that organisations receive for investing in programmes and projects, and it develops data to improve those programmes.
From IT to HR, from boardroom to shop floor, increased accountability for achieving high-value results for new initiatives is increasing in every organisation and department. Now the world's leading experts on ROI distil their years of experience and research into proven step-by-step tools for determining the value of any project before, during, and after implementation. Jack and Patricia Phillips even show how to measure and place value on intangible qualities like leadership, creativity, customer loyalty, employee engagement, and more.
Show Me the Money: How to Determine ROI in People, Projects, and Programs provides a comprehensive and comprehensible system so business leaders, analysts, and consultants can make the case for their projects and get buy-in at the beginning, refine them during development, and communicate the ultimate results to all stakeholders once the projects are completed.
Building on a tremendous amount of experience, application, practice, and research, Jack and Patricia Phillips draw upon the work of many individuals and organisations, particularly those who have been reaching the ultimate levels of accountability using the ROI Methodology™. Developed in an easy-to-read format and fortified with examples, tips, and checklists, this will be an indispensable guide for those who seek to understand accountability issues.
Patricia Pulliam Phillips, Ph.D., is CEO of the ROI Institute. She is the co-author, with Jack Phillips, of many books, including Return on Investment Basics, The Human Resources Scorecard, and ROI at Work
Jack J. Phillips, Ph.D., is chairman of the ROI Institute. He is the author, co-author or editor of more than forty books and is the series editor of the ASTD In Action casebook series and Butterworth-Heinemann's Improving Human Performance series.