The Value of Learning:  How Organizations Capture Value and ROI and Translate Them into Support, Improvement, and Funds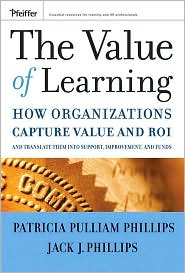 The Value of Learning is a hands-on guide for the implementation of learning and development programmes that can be applied across all types of programmes, ranging from leadership development to basic skills training for new employees. In this book, Patricia Pulliam Phillips and Jack J. Phillips offer a proven approach to measurement and evaluation for learning and development that can be replicated throughout an organisation, enable comparisons of results from one programme to another, and ultimately improve ROI.
This ground breaking book presents a results-based approach to programme implementation, focusing on a variety of measures that are categorised into seven data types including:
Inputs and Indicators
Reaction and Planned Action
Learning and Confidence
Application and Implementation
Impact and Consequences
Return on Investment
Intangible Benefits
The authors reveal the techniques for identifying, collecting, analysing and reporting all seven types of data in a way that ensures reliable and reproducible results.
In addition, this invaluable resource explores the challenges of collecting hard-to-measure data and shows how to place monetary values on the difficult to assess. Building on years of experience, application, practice and research, the authors draw upon the results from organisations that have reached the ultimate levels of accountability – the ROI. In an easy-to-read format that is filled with illustrative examples and tips, The Value of Learning is an important guide for anyone who seeks to understand more about bottom-line accountability.
Patricia Pulliam Phillips, Ph.D., is CEO of the ROI Institute. She is the co-author, with Jack Phillips, of many books, including Return on Investment Basics, The Human Resources Scorecard, and ROI at Work.
Jack J.Phillips, Ph.D., is chairman of the ROI Institute. He is the author, co-author or editor of more than forty books and is the series editor of the ASTD In Action casebook series and Butterworth-Heinemann's Improving Human Performance series.