With the nation-wide move to have employees work from home to limit social distancing in response to the Coronavirus pandemic, many managers are faced with virtually managing their employees for the first time. It is very important that leaders understand that such a programme can be a positive investment and not a cost.
Here are some ways you can ensure your work from home programme ends up benefiting the organisation, rather than costing it money, and prove productivity for employees working from home.
Your organisation needs to approach a proposed working from home programme in a structured way if you want to provide true value to both the company and the employees.
The organisation will need to ensure all the essential elements are established in the home environment. The home office needs to be equipped with the appropriate interconnectivity to the company, data bases and relevant office functions, much like an office would be in the workplace.
You as the employer will need to make an initial assessment of equipment, computers and connections. It is likely to cost the organisation to bring such items up to a standard organisational level. Employees who opt for this programme will therefore need to understand that the organisation is committing significant funds to achieve the outcome.
Guidelines and pertinent rules should be provided for the programme, such requiring employees to: sign a work-at-home pledge, attend training on "working at home", and / or agree to new policies and procedures.
The key to the success of such a programme is that the principal stakeholders agree on the design. Many organisations get their designs reviewed by a group of employees in focus groups and then modify them to produce the final set of regulations.
Measure working from home success in deliverables, not time clocks
Focus on results, not activities. Plan production so that employees can work whenever they need to across the week. The key is to ensure they don't over-work by over committing to timelines that are too optimistic. Be a bit more conservative in the initial phase as the remote working routine is bedded in.
Prove productivity for employees working from home by way of benefits that can be converted to monetary values
The following working from home programme benefits are likely to be identified and measured in an organisation. All can all be converted to monetary values:
Turnover reduction: A number of turnover cost studies have been performed across sectors and industries. For example, this study, by professional services firm PricewaterhouseCoopers (PwC), suggests the cost of replacing a competent member of staff equates to approximately one year of that person's salary, reflecting all the costs associated with lost skills and productivity, replacement and the training of a new recruit.
Other estimates put the cost of replacing employees at ranging from 90 percent to 110 percent of their salaries. Around 67% of that constitutes soft costs (e.g. reduced productivity, interview time, lost organisational knowledge) and 33% in hard costs (e.g. recruiting, background checks, drug screening, temp workers).
Draw upon estimates such as these when developing your own costing model.
Productivity: The method for converting any productivity improvement is by using standard values (e.g. average cost of harassment case, average cost of a sale, average employee turnover costs). Such values can be applied to any measurable improvement in volume and product delivery and are normally developed by analysts in your organisation's finance and accounting teams, so seek their advice when assessing the value of your organisation's productivity gains / losses.
Office expenses: Also calculate and compare office expenses versus home office expenses costs. If the Net Cost savings shown in the formula below are a positive number, then there are office expenses savings to be gained by working from home. It the Net Cost savings are a negative number, then it is more expensive to have employees working from home offices. 

Working at home's intangible benefits
Many intangible benefits that can accrue to organisations that adopt this more flexible working style. Intangible benefits are those that cannot easily be converted to a monetary value. Nonetheless they can be significant.
Any of the following intangible benefits can be of great help in competitive employment markets. 
Some of the many intangible benefits when employees work from home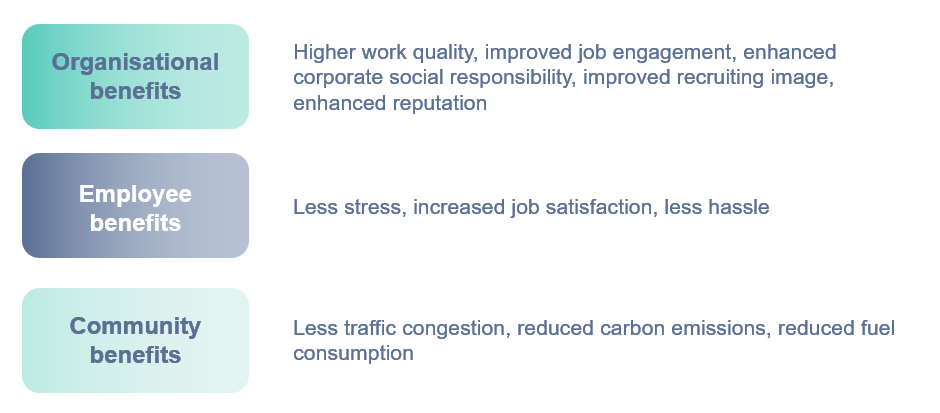 Remote working is not for every business. However, it is available to most and has been proven to add bottom-line value to those who have adopted it well. Following the advice above will help you to prove productivity for employees working from home rather than just leaving it to guess-work, ensuring your organisation gains a return on its investment in this programme.